The DaVinci Code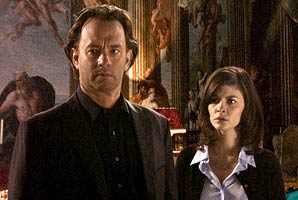 The book sold like wildfire and became a bone-fide cultural phenomenon. The movie rights were snatched up with gleeful abandon. The raging controversy was the sort which studios would kill for. So it all begs the question—how did Sony Pictures screw up such a sure thing?
Unless you've been living in a cave the past few years, you know that
The DaVinci Code
focuses on Harvard symbology expert Robert Langdon (Tom Hanks) and French cryptologist Sophie Neveu (Audrey Tautou) as they race around Europe, hunted by the police and a rogue arm of the Catholic Church in a desperate attempt to unravel the clues to the whereabouts (and identity) of the Holy Grail.
While Dan Brown's book is the sort of thriller that keeps you peeling page after page to alleviate the tension in your chest from his dozens of cliff-hangers, (he may not be a master of the English language or by any stretch, a great writer, but the man knows how to move a plot) the movie lumbers along at a snail's pace, bloated with the sort of dialog and exposition that fill scenes the length of entire Shakespearian acts. It's a simple rule—show, don't tell. Apparently screenwriter Akiva Goldsman was sick the day they taught film at film school.
This is a movie bled dry of any sort of suspense and tension, sapped of any sort of energy or fire—controversial or otherwise. Middlebrow director Ron Howard plays the film so safe that it moves like a Superbowl played in quick-drying cement. So intent on being faithful,
The DaVinci Code
forgets to be entertaining. There is no joy here. No passion. No fun. No pleasure, guilty or otherwise. Not even the sort of vulgar and diabolical anti-religious sentiment that so many Christians are up in arms about. Stop protesting Christians. Sit back and let this dud of a film burn itself out.
Tom Hanks seems wooden and distracted, phoning in what is easily his worst performance in years. Audry Taotou, so enchanting in
Amelie
, is charmless here. Paul Bettany is hammy. Even Ian McKellen, the only actor to show any sort of pizazz on-screen is not up to his usual snuff. There is no crackling chemistry between anyone.
The film's philosophy resembles it cinematography. I've decided that there are times I like realism over murky artifice. It seems that filmmakers these days like to shoot things in the dark, just because it evokes gloom, even if it makes no sense on screen. For three quarters of
The DaVinci Code
, characters run around museums and hole up in great mansions, all of which apparently forgot to pay their electrical bills because no one bothers to turn on anything more than a tiny desk lamp or candle. It goes beyond ambiance and just feels silly.
Murder, religious controversy, secret organizations, arcane historical references, conspiracy theories—the movie, like the book, was tailor made to be a rip-snorting yarn. Instead it's a nap-inducing yawn.